Since "Biofinity" and "Biofinity contact lens review" are the most frequently searched terms leading to my website, I thought I would give everyone my view of the Biofinity contact lens.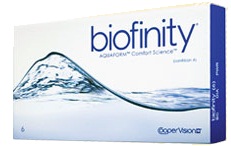 Its technical specs can be found at the Coopervision website. Silicone hyrdrogel lenses (the super breathable class of contacts) have been on the market for years, but Coopervision came to the game after Ciba, Bausch & Lomb, and Vistakon. All the latter use a special coating on the surface to make the silicone material wettable for your eye, but Coopervision's unique Biofinity material is wettable throughout the matrix of the material.
It's a one month lens, which is convenient for most people to remember when to toss their now old lenses which will soon become cesspools ripe for eye infections. The reason is because they build up deposits, like this:

Lots of lenses are only two week and toss lenses, but Biofinity is resistant to deposits enough to allow it to be a one month lens. Official and approved.
Biofinity also got an FDA indication for extended wear. In other words, if your doctor thinks your eyes can handle it, Biofinity can be worn one week straight, take it out, clean it, soak it overnight, and then repeat.
Now, I've tried this, and while it was totally doable, for me it's not as comfortable for extended wear compared to Ciba's Night & Day (by the way, I refuse to call it Air Optix Night & Day Aqua because that is just waaaaaaaay too long a name for a contact lens.) But guess what. That's just me. Maybe for you it could be fine. However, almost every patient I've tried this with comes back a week or two later and says they would rather be Rx'd Night & Day if extended wear was their approved goal.
If you're just interested in daily wear (taking out every night) or if price is the main consideration, then Biofinity wins over Night & Day because it's only around $50 per box of 6 lenses rather than Night and Day at ~$70 per box of six. Another consideration is that you can now get Air Optix Aqua (regular, NOT Night & Day) for ~$47 per box. My only beef with that is that it's basically the same lens as O2Optix which was released as a two week lens, so I'm not sure whether to believe that Ciba wants you to wear a 4 week lens for two weeks or a two week lens for four weeks.
Comfort-wise, it seems to me that the percentage of patients that like the comfort of the Biofinity is about the same percentage of people that like the feel of O2Optix. Now, the only thing is, both those percentages are less compared to Acuvue Oasys comfort. But consider that a year supply of Acuvue Oasys (a 2 week lens) is about ~$272 while Biofinity is around $200.
Biofinity has a great toric lens in case you have low to moderate amounts of astigmatism (0.75-2.50) in one or both eyes. For mild amounts of astigmatism (0.25-0.50 and maybe 0.75), its aspheric optics help mask it for clearer vision compared to contacts without aspheric optics.
Anyway, my advice is to just try it out. If you like it, buy it. If not, try something else. That's how I roll. I alternate between wearing Biofinity, Acuvue Oasys, and Night & Day. Mostly Night & Day. But hey, I've been wearing contact lenses so long that you could poke me in the eye, and I'd barely feel it. But seriously, I think I have significant corneal hypoesthesia which allows me to tolerate pretty much any lens that gets pushed out into the contact lens market.
Another consideration for you is the compatibility of lens material to your desired contact lens solution system. Some lenses can only tolerate the most expensive solutions. The Biofinity material is pretty much compatible with even the most cheapest of house brand multi-purpose solutions. On average. Your eyes may vary.
I think Biofinity is a quality lens, but take it home along with your Oasys and Night & Day or O2Optix and see which one works best at which price for you.
There, does that answer your question?
Tags:
Answers
,
Biofinity
,
contacts
,
Coopervision
,
patients
,
Reviews
29 Responses to "Biofinity Contact Lens Review"