I had misplaced a BlueCross insurance payment check at the bottom of a pile of papers. By the time I found it, I had missed the 90 day deadline to cash it.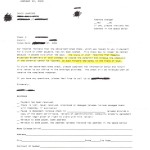 The other day I got a letter in the mail. They were wondering if I needed it reissued. What was very interesting to me is that if I didn't respond, the law required BlueCross to pay the money to the state of Utah!
So, I wonder if patients should be forced to do the same thing? Or what about doctors who owe patients an overpayment refund? Should we be forced to pay the government if they never cash the check? I guess it won't matter soon anyway because the way things are heading we'll all be working for the government. Thanks for reading, comrade.
Tags:
insurance
,
politics
2 Responses to "Government Will Take Insurance Money"