2017-12-12 update:
This post is way out of date. In the wisdom of the government, the USPHS is apparently trying to be more military-like. One of the sequelae of this movement is that hardly anyone makes it to O-6 anymore- especially not some optometrist who often works alone, supervising one tech/receptionist. Even the Pharmacy Dept Supervisor, who supervises 3-4 other pharmacists plus 4-6 techs, is typically only given an O-5 billet! RIDICULOUS if you ask me.
So any calculations below from 2008 showing what great pay and retirement you're going to get, heavily based on the idea that anyone who puts in the time will get an O-6 by the end of their career, are just plain wrong now. Those glory days are gone- sailed away with the salt-and-pepper uniform. I was going to delete the entire post, but I'll leave it for posterity's sake.
I worked for the USPHS, detailed to the IHS, for 2 years. I would have stayed longer, but I wanted to live in Utah or Idaho. The positions available in these two states were filled with young optometrists that appeared to me like they weren't going to move away anytime soon, so I made my move to go into private practice and then later into Wal-Mart practice.
Looking back on my decision to leave, it would have been much better for my financial situation to stay. In fact, I am going to argue that for any optometrist, the financial rewards for practicing optometry are equal to and most likely better in the Commissioned Corps than in the private sector.
Government optometry work seems to get little attention in optometry school. Most everyone has delusions of grandeur about how comfortable their living will be while working in private practice. Of course, that dream turns into a nightmare when they work for another optometrist paying them little more than a resident but with the hint or promise of a buy in which later fizzles out.
Many people think of government optometry only when they want to go into the military just to get their school loans paid off and then get out. Many do not stay because promotion in the military is limited. Many years ago the USPHS used to have an automatic promotion schedule, but that has been replaced by merit promotions. A recent transformation of the commissioned corps of the USPHS has made it harder to get promoted just for showing up; however, your chances of getting promoted to O-6 (equivalent to a Colonel or a Navy Captain) are much better in the USPHS than other uniformed services.
For an estimate of what monetary compensation you might get in the USPHS, I've made this table. It's a little tough to understand unless you are used to military pay systems. They have what is called base pay which is calculated from your rank and years of service. But then other types of pay like Housing Allowance and Subsistence which are variable depending on where you live. You also get pay for being an optometrist: Optometrist Special Pay and Optometrist Retention Pay which helps equal your pay to private sector optometrists. You can get even more money by getting your FAAO and by hopefully getting loan repayment. Also you get up to $1000 reimbursement per year for travel and tuition expenses for continuing education.
My PHS pay estimate is based on a theoretical advancement in rank. Promotion is not guaranteed nor is it on a set timetable. There has been cases where an officer was frozen at O-5 and wasn't allowed to be promoted to O-6. I also assume that one stays 30 years in the corps. You can get out as soon as 20 years, but your retirement compensation is less.
Now, I'm no accountant or financial planner, but I believe that my PHS pay estimate table shows that compensation inside PHS is probably better than what you can expect to achieve in the private sector as an optometrist. A private sector optometrist would have to invest ~$24,000 a year just to get the same retirement that a 30-year PHS optometrist gets.
Anyway, this should dispel the myth that PHS optometry pay isn't comparable to private or commercial optometrist pay. I'd say it's better based on my calculations.
Now, what can you expect if your join the USPHS? There are a small few who work in the FDA and Bureau of Prisons. You could also work your way up and do non-clinical duties at USPHS headquarters. But the majority of PHS optometrists work in the Indian Health Service. You can work in the IHS as a civil servant or direct tribal hire, but for a career IHS optometrist it is most advantageous to go the commissioned corps route. Same job as an optometrist but different pay system.
Where can you work? Well, here is a map.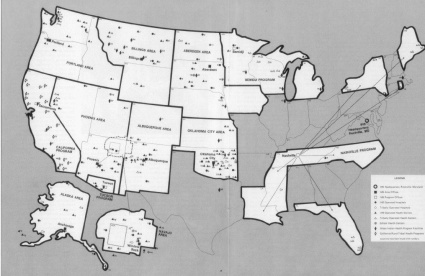 But a better way is to browse through the PHS-IHS directory regularly updated here. But not every place has an opening, so you need to look at the current Vacancy Announcement (a.k.a. Recruitment Announcement) regularly updated here at the IHS Optometry web page.
You can find optometry job announcements in IHS by going to their website job page and then selecting "Optometrist" in the Professional Categories pick list. I find that this page isn't updated as quickly as the IHS optometry page, though.
In my next few posts, I'll talk about non-monetary benefits of working for PHS-IHS, tips and tricks for applying with the PHS-IHS, more about rank advancement, and the Loan Repayment Program.
For more information about calculating pay in the USPHS system, see these sites:
Basic Allowance for Housing is the biggest variable, estimated in table it at ~1200.
Basic Allowance for Subsistence now at $202.76
Tags:
Income
,
USPHS
5 Responses to "Join the USPHS as an Optometrist"